Welcome to the Short Hill Historical Society!
We are a non-profit organization dedicated to preserving and restoring historic landmarks in the Short Hill region of western Loudoun County, Virginia.
This non-profit saved the Old Stone School in Hillsboro from being demolished and kept its doors open for 40 years through dues, donations, rental fees, and fundraising efforts all led by volunteers. Our efforts are now turning to preserve and restore other landmarks in our area. Read more about our history.
An Evening with Linda Sittig, November 21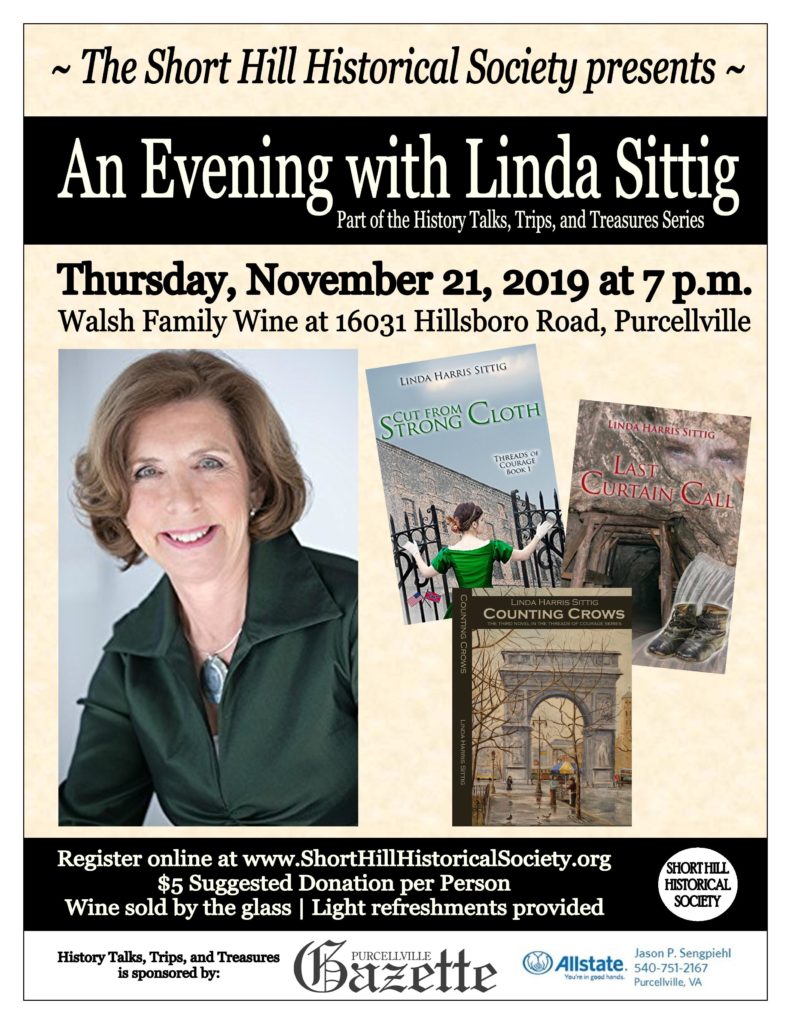 Join the Short Hill Historical Society at Walsh Family Wine on Thursday, November 21 to hear award-winning author, Linda Sittig talk about how history shapes women's lives and about her latest book, Counting Crows.  Wine will be sold by the glass, and light refreshments will be provided. A suggested donation of $5 a person is welcome. Learn more and register online!
Update about Christmas in Hillsboro Homes Tour & Greens Workshop
The Christmas in Hillsboro Historic Homes Tour, hosted by the Short Hill Historical Society, won't be held this year for a variety of logistical reasons.
We are still planning to have the Greens Workshop to teach people how to make wreaths and arrangements. Participants will purchase what they make to decorate their own homes and we will continue to keep this tradition alive. Watch for information about the workshop!
Annual Membership and Donation Drive Underway!
Support the Short Hill Historical Society by becoming a member and making a donation! Annual dues to become a member of the Short Hill Historical Society are $20. Your dues and donations help support efforts like the History Talks, Trips, and Treasures series and other efforts underway to help protect and preserve the history of our area–and they are tax-deductible!
Short Hill Historical Society Kicked off 3rd Season of History Talks, Trips, and Treasures with Annual Membership Drive Sunday, April 7
The Short Hill Historical Society kicked off of the 2019 History Talks, Trips, and Treasures series, and the start of our new year on Sunday, April 7, with a talk about conservation easements featuring Ben Lenhart, a board member of Save Rural Loudoun, attorney, and a local resident with a farm property that is in easement. He was joined by Steve Price of and Trust of Virginia. See photos.