Join us on December 9, 2017 to tour five historic homes in the Town of Hillsboro that will be beautifully decorated for the holidays with fresh greens. Learn about each of the homes from docents who guide you through and share interesting stories, facts, and historical information. Please dress appropriately for the weather, wear good walking shoes, and be prepared to cross the road ONLY at the areas designated by deputies (see more in the green box below).
Get a sneak peak of the homes on the 2017 tour!
See a wonderful collection of photos from past house tours.
Scroll down to purchase tickets and to volunteer.
TICKETS
You can purchase tickets for the 2017 Christmas in Hillsboro Historic Homes Tour at the Old Stone School on Saturday, December 9 between 11 a.m. and 4 p.m. now.  If you have already purchased your tickets online or will be buying them at the door, you will pick up your tickets, along with the booklet that has information about the homes on tour, at the Old Stone School starting at 11 a.m. on December 9. We will have the names of everyone who purchased tickets in advance at the table. The prices and a link to purchase are below:
$25 on the date of the tour; ticket sales will close at 4 p.m. on December 9
$18 for seniors and students
$15 for Short Hill Historical Society members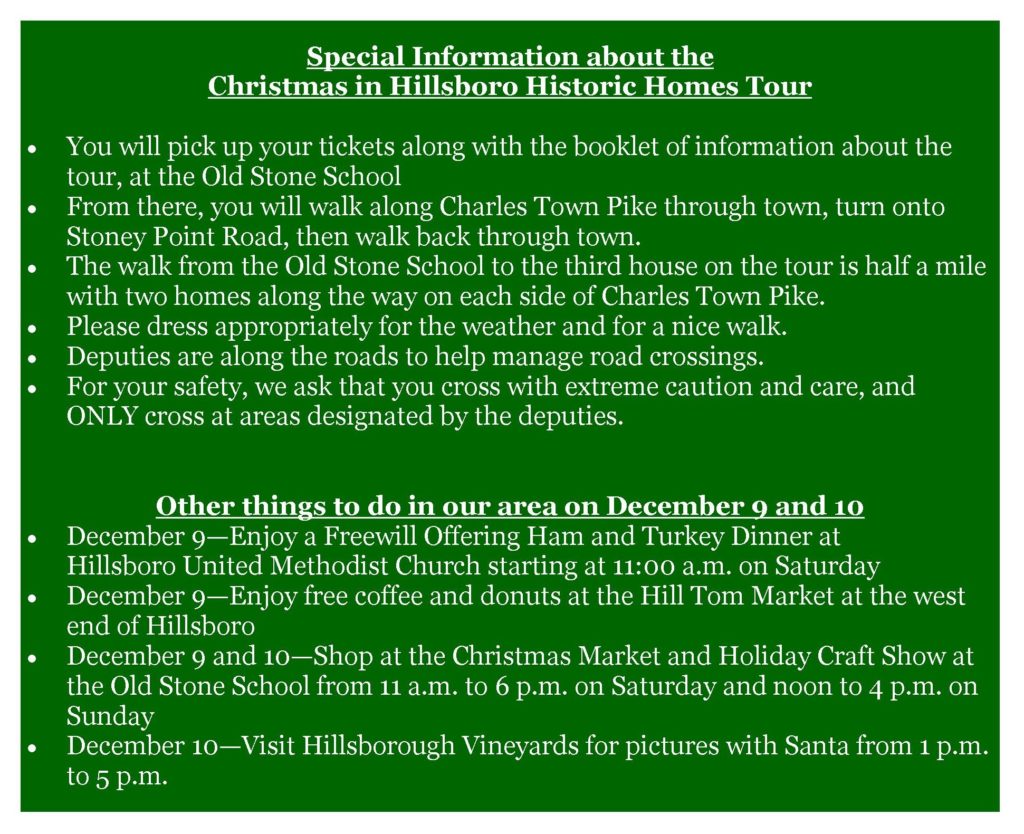 SPONSORS
The 2017 Christmas in Hillsboro Historic Homes Tour is sponsored by:
Alta Terra Farm Bed and Breakfast
Bank of Clarke County
Birch Hollow Yoga
Browning Equipment
Doukenie Winery
eink
Fieldstone Farm Bed and Breakfast
Hillsborough Bed and Breakfast
Hillsborough Vineyards
Hunt Country Jewelers
Keel Point
Old 690 Brewing Company
Silverbrook Farm Bed and Breakfast
The Purcellville Gazette